Patricija, Sean and I recently visited our Woodland Coffee plantation located between the villages of Oola and Pallasgreen in Co. Limerick.  A glorious day with sunshine allowed for a great perspective on what is happening with the trees.
The site is a 30 acre mixed woodland plantation of deciduous and conifer trees. The native Irish Alder is the tree that has grown the most since the site was planted with 27,000 trees in November 2021; these have doubled in size.  We have been fortunate to have had a mild spring in 2022 and 2023 as frost in late spring can cause significant dieback to new growth and often kills the young trees.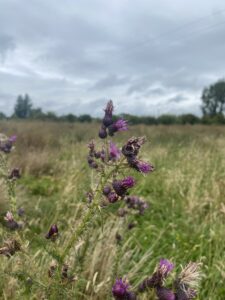 There are a number of water courses that traverse the land, and these are starting to rewild with lots of wildlife (an abundance of frog spawn!) and ground nesting birds shrieking overhead as we got closer to their nests.
The Woodland Coffee project was prefunded in the sense that we purchased the land and committed to planting the trees before a single cup of Woodland Coffee was made.
The Woodland Coffee project has been so satisfying as before we got involved, these 30 acres were sitting idle with occasional grazing being organised by a local farmer.  Now we have a Woodland plantation that is sequestering carbon and creating a habitat for a host of wildlife.
The real heroes of this project are our customers who are as enthusiastic about Woodland Coffee and its ethos as we are, for this we are very grateful and thank you.
If you would like to find out more about the Woodland Coffee project, please see www.woodlandcoffee.ie or drop up a line.
All the best!
David