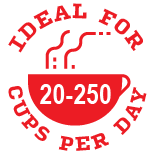 The Gaggia La Radiosa combines exceptional drinks quality with ease of use and stylish design.
ADVANCED FEATURES
Fully self-cleaning coffee machine with advanced features that include Wifi connectivity / telemetry, 'Barista Interface Mode', data analytics; all with an "A" energy rating. Features that deliver real benefit to your coffee offering.
Available to rent with fridge
for €370 plus vat per month
Available to lease purchase with fridge
for €356 plus vat per month
As a high end retail coffee machine, the La Radiosa allows you to produce Barista quality coffee with full control over margin. For high end foodservice, the La Radiosa delivers efficiency with its 'Barista User Interface' and customisable payment solutions.
The La Radiosa is the ultimate office coffee and workplace coffee solution, your staff will love you!
The La Radiosa represents ground breaking coffee quality with patented 'Evo milk technology' that makes for the most sublime foamed milk quality available in the market.
The Gaggia La Radiosa coffee machine is fully customisable and offers flexibility in terms of drink choices, coffee blends, coffee and milk temperature and the density of milk foam. Enhanced electronics that are accessed via a 10" touchscreen user interface allows you to custom coffee drinks icons, adjust the colour of the leds and much more.
The La Radiosa is a fully self-cleaning coffee machine; just activate the cleaning program and La Radiosa looks after the rest.
Perfect as a workplace office coffee machine!
| | |
| --- | --- |
| Width | 368 mm |
| Depth | 583 mm |
| Height | 788 mm |
| Weight | 60 Kg |
| Voltage | 230-240 V / 50-60 Hz |
| Maximum absorbed power | 3200 W |
| Coffee brewer capacity | 16 gr |
| Beans hopper capacity | 1.2 Kg X 2 |
| Soluble canister capacity | 1.8 Kg / 3.9 lb chocolate |
| Suggested output | 250 cups |
10'' full HD touchscreen (up to 12 selections per single page)
Customizable User Interface (drink icons, customer logo and background colour)
Self service or Barista configurable User Interface
RGB LEDs lateral stripes (up to 256 colours)
Customizable access to programming (different access passwords)
EvoMilk technology: hot and cold foamed milk and innovative milk system cleaning
Independent hot water outlet
Hot water bypass for Americano
Adjustable nozzle head from 75 mm/2.95 in to 170 mm/6.7 in
Self-setting regulation of blades as an option
Energy saving: soft and deep mode
Eva-dts file for statistics
MDB capable (hardware and software)
USB port
Embedded Wifi and Bluetooth connectivity - 3G connectivity as an option
Energy rating of A++