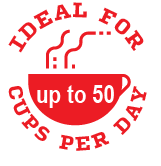 The Phedra Evo is ideal for smart environments with moderate footfall, such as offices, canteens, hair salons, leisure facilities.
Its compact size makes it the ideal table-top coffee machine for small spaces, The Phedra makes black coffee, Cappuccino, Latte, Hot chocolate and Mocha. Using fresh coffee beans and dried milk the Phedra is a versatile choice.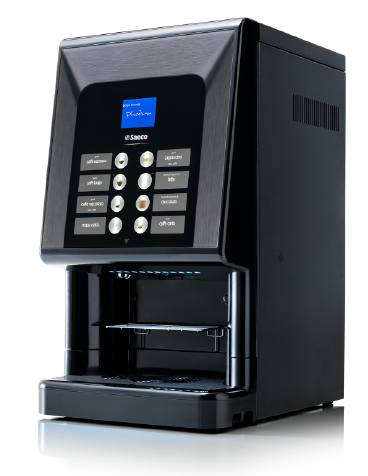 Available to rent
for €120 plus vat per month
Available to lease purchase
from €75 plus vat per month
Water can be supplied by a mains connection or from a tank with a capacity of more than 3 litres, according to location and consumption requirements.
The highlight of the new sleek and minimalist design is the interface. Icons, touch buttons and a large colour display offer instant access to the available options and simplify the selection process.
| | |
| --- | --- |
| Width | 393 mm |
| Depth | 508 mm |
| Height | 695 mm |
| Weight | 37.5 Kg |
| Voltage | 220-240 V/ 50-60 Hz |
| Maximum absorbed power | 1550 W |
| Steam boiler | Yes |
| Water Reservoir | 2.5 litres |
| Coffee boiler capacity | 300 cc |
| Coffee brewer capacity | 9 gr |
| Beans hopper capacity | 0.65 Kg |
| Powdered Milk capacity | 5 - 20 cups per day |
| Suggested output | 20 – 50 cups per day |
Grinder equipped with 64 mm ceramic blades
Automatic milk foaming
Adjustable grinder
Electronic pre-brewing
Programming of both the servings and the amount of ground beans, milk and water used
3.5'' colour display
Capacitive backlit keyboard with colour icons
Height adjustable grid
8 programmable direct selections
Energy Class A+