Watermark Speciality Coffee
Sourced from the farmlands of South America, these high quality blends suit both contemporary and emerging tastes. Expect smooth, fresh, full bodied flavour in every cup.
All of our blends have a rich and distinctive taste which is instantly recognisable.
Our artisan coffee is popular in bars, cafes, restaurants, shops and leisure clubs, all over the country. Why not contact us today to arrange a tasting?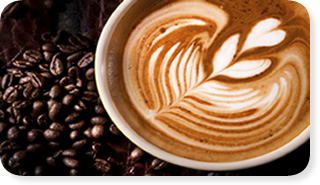 What our Customers say about our Speciality Coffee
Since I began working with Watermark, I have found that their professionalism and reliability is second to none. Their newly introduced coffee blends have been a hit with my customers and I look forward to continuing to work with them in the future.
Working with Watermark has been a very smart business decision for us. Their work is always carried out correctly, efficiently and to the highest standard. We use their blend of 1938 coffee which tastes exquisite. We have had excellent feedback from our customers which is always great to hear.
We have had amazing feedback from our customers about the coffee. They love it. Some have even said it's the best coffee in the country! Their enthusiasm and passion for what they do is clearly demonstrated through their work.
The 1938 100% Arabica blend has a softer profile, with a hint more roasted character to it. Sourced from Brazil Fortaleza and Costa Rica Naranjo, in this cup you should find lots of sweet, buttery notes and mild jammy fruit acidity. A good creamy body finishes it off nicely.
Apollo is the god of sun and light and this blend is guaranteed to awaken the senses. A mixture of 80% Arabica and 20% Robusta, cocoa and dark fruit tones shine through culminating in a strong finish.
Aurora is the goddess of sunrise and when you experience a cup of this blend everything looks a bit brighter. This 100% Arabica blend consists of dark cocoa and plum tones with a heavy bodied and lingering aftertaste. It was awarded one gold star at the Great Taste Awards 2018
Celeste, meaning heavenly, will definitely not disappoint. The 100% Arabica blend comprises of syrupy, buttery, vanilla and milk chocolate tones all culminating in a delightfully sweet after taste. It was awarded 2 gold stars at the Great Taste Awards in 2017
The Orion blend lives up to its name and is one of the brightest coffee blends in the Constellation collection. This 100% Arabic blend is packed with plum jam sweetness and butterscotch with a gentle acidity and rich aftertaste. It was awarded one gold star at the Great Taste Awards 2018
The Auriga blend is our organic single origin option in the Constellation Collection. This organic blend is syrupy bodied with berry fruits, milk chocolate and a crisp, clean finish. This single origin coffee is sourced from the Jaen and Cajamarca regions of Peru.
Watermark Speciality Coffee – Branded Point Of Sale Items
We can provide you with various different point of sale items in order to best advertise the speciality coffee being served in your premises.
Other items may be available on request
We Offer:
Ceramic Cups
Paper Cups
Swing Sign for outside of premises
Fomex Sign
Counter top Signs
Poster
Flyers